Commercial Lighting Solution
The lighting is one of the important components of commercial store space. Effective lighting design can attract and guide the eyes of consumers and create a comfortable, safe and harmonious light environment atmosphere. Take commercial shops for example (such as clothing stores, bookstores, restaurants, etc.)
Considering the requirements of business atmosphere and setting environment, to determine the combination of light source and light color in each area. Light color often plays a decisive role in creating the atmosphere of a business environment, and light color in turn depends on the color temperature. Usually, warm light sources create a stable, mild feeling. As the color temperature rises, the light source gradually takes on white and blue colors, giving a bright, cool feeling. Therefore, according to the specific business characteristics and the requirements of the overall environmental effect, the design should pay full attention to the matching choice of illumination and color temperature
Key lighting goes deep into commercial Windows, shelves, commodities, entrances and exits and other Spaces. The environment of the window should be rich and changeable. It varies with the types of goods, brands, display methods and space composition. In order to highlight some items in the window, key lighting or decorative lighting can be configured to achieve a special sense of light and texture, so that it can achieve the performance effect of color. Special attention should be paid to the selection of lamps that can freely change the lighting line, in order to adapt to the ever-changing needs of the goods displayed in the window.
Display shelf lighting is one of the most used commercial lighting. General display rack is divided into two kinds, one is closed, it is simply for display. The other is open, it is used for the self-selected shopping mall display, the vertical illumination of the lighting design is 1.5-5 times of the general lighting of the whole commercial environment, only through the light to meet certain requirements, can produce a special commercial effect.
The performance of commodity texture often causes the curiosity of customers, and requires that the material and surface treatment characteristics of commodities be closely combined with the characteristics of light source and light quality in lighting design. Directional irradiation lamps make the light project in one direction and fall on the surface of the object to increase the contrast between the light and the dark side, which can well show the luster of the object by the light surface.
What series of OLAM luminaire are suitable for commercial are use?
Proper lighting shading Angle, beam Angle and light distribution curve, these points are also very important. The shading Angle of lamps also plays an important role in limiting and eliminating glare. The larger the shading Angle, the less glare. But if the shading Angle is too large, the efficiency of the lamp will become very low.
TK01 and TK02 series developed by us provides customers with more choices in the luminous angle.
Beam angle: 60/90/DS20 degree,
Luminous effect : >160LM/W,
4 wire 3 phase
TD01 and TD02 series has more advantages than glare value below 19, the luminous effect is lower than TK series, which is an excellent choice for commercial place
Beam angle: 80 degree,
Luminous effect : >130LM/W,
Lower glare: UGR<19
4 wire 3 phase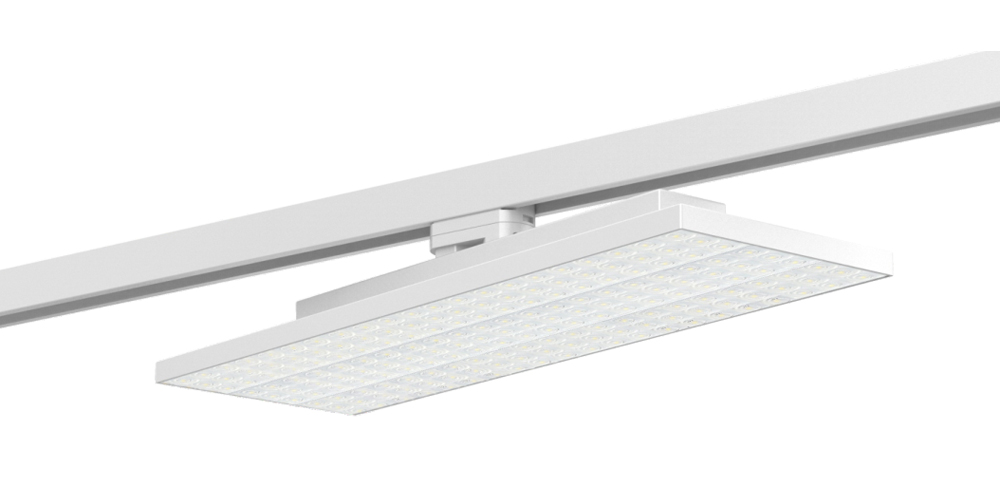 Track Panel Light-TK01 series
You will be backed up by a strong R&D team
We can achieve what you want, moreover, we can you think of what you can't think of