Parking Lots Lighting Solution
The luminaire in the parking lot should be waterproof, dustproof, shockproof and fireproof. There are many new designs of LED Tri-proof lights you can found in the market now, Read on our guide to select the best Trip-proof light for your projects.
Main Characteristics of tri-proof light :
LED Trip-proof Light refers to waterproof, dustproof and corrosion-proof, which is ideal for rough and moist condition.
Material: Using special corrosion-resistant materials and silicone sealing rings, tri proof light owns the properties of solvent and high-temperature resistance. It can be used for a long time under various harsh environments.
Light efficiency: With uniform light, high luminous efficiency and good light transmission c. in general, the light efficiency of the traditional tri-proof lamp is only about 60-90lm/w. but our tri proof light lighting efficiency 120-150lm/W
Anti-shock: Through the integrated design and multi-channel shockproof structure, the tube is not easy to break than common one we use in daily life. Eye protection: Flick free and no glare, which effectively avoid eye discomfort and fatigue. Environmental protection: without mercury and other harmful elements, eco-friendly and energy-saving.
Installation: Easy to install, ceiling or pendant style can be applied to different application scenarios.
What types of LED Trip-proof light are suitable for parking lots use?
IP67 IK10 IK69K LED Tubular Light :
With the highest level of protection, this tube fixture is capable of with standing the high-pressure and high-temperature flushing, against water pressures of 100 bar and temperature of 80 degree. Meanwhile, it effectively reduces the possibility of dust and water entering because of the the seamless structure and smooth surface. Compared to other lights, it's with IK10 grade. This tube light is the best choice for industries, like poultry farm, food processing factory and car washing station.
IP65 LED Tri-Proof Light
In order to replace the traditional non-watertight batten light, IP65 tri-proof light was designed. It is more suitable for damp indoor places, like underground parking and swimming pool. With the combination of aluminum and PC cover, lamp has a longer life span and better heat dissipation. The life time is up to 50000 to 100000 hours, which dramatically reduces maintenance and replacement costs. What's more, the sensing function 1-10v or DALI dimming can also be achieved.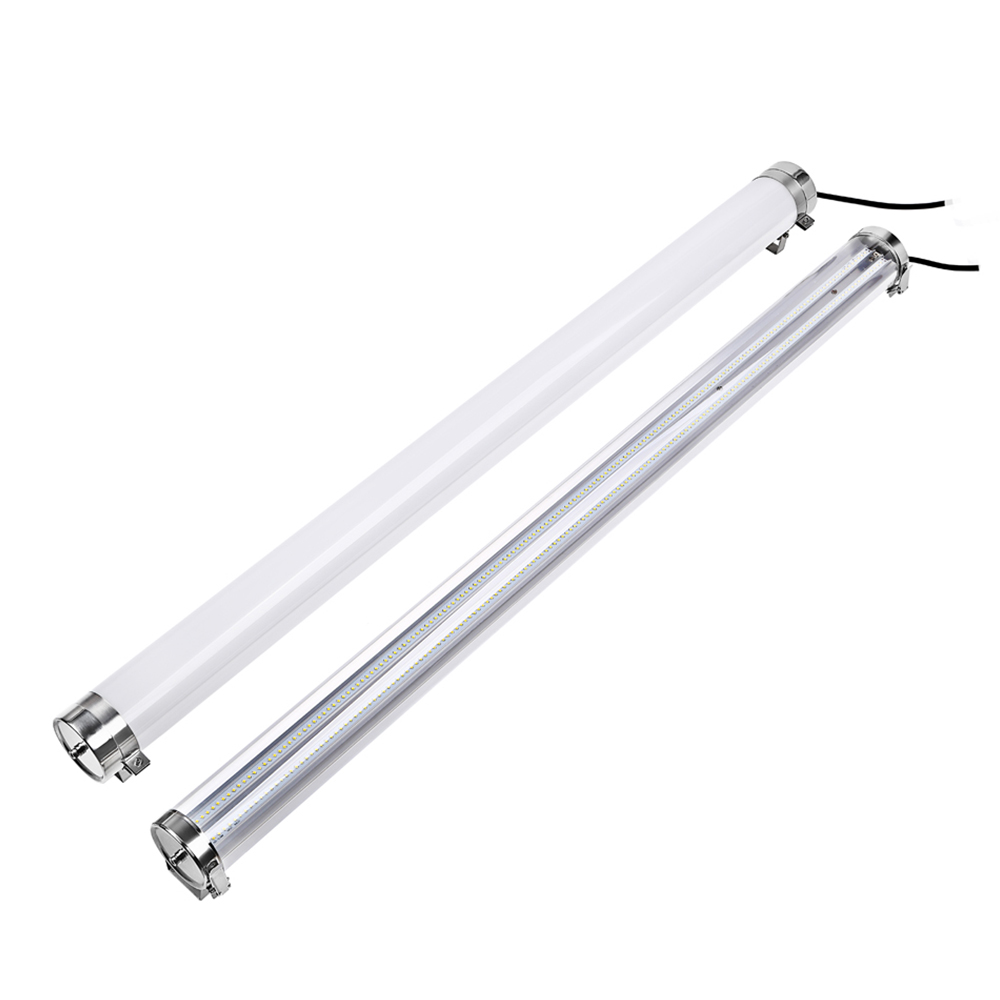 IP67 IK10 IK69K LED Tubular Light-K80 series
You will be backed up by a strong R&D team
We can achieve what you want, moreover, we can you think of what you can't think of